Lead goal-oriented negotiations and stimulate mutual respect and collaboration.
Everything in life is a negotiation. We constantly interact with one another and attempt to cooperate. Effective negotiations will make you and the ones around you prosper. Spot the mutually accepted ground between you and your counterpart. This way, everyone wins. Long-term cooperation is then guaranteed.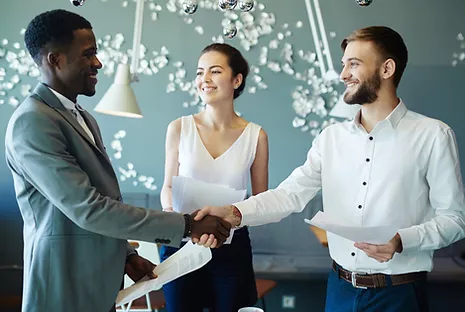 Only those who have goals can achieve them. Begin negotiations with inner clarity on what you want to achieve. This includes clarity on points that you are and are not willing to negotiate.
Acknowledge your counterpart
Be aware of your counterpart's motivation and perspective. Propose mutually beneficial plans and achieve sustainable cooperation.
Negotiations are dynamic and constantly changing. Recognize subtle oscillations and changing dynamics and meet them proactively and confidently.
A 'yes' is meaningless without a how. Define clear steps to ensure delivery and agree upon the timeline and accountabilities.
There is a need for learning more leadership skills? Here is an overview of our other coaching topics in the area of leadership: