The Corona crisis has "turned our working day upside down". Many work from home offices and will continue to do so. The past time proved that working from home can be very attractive: No more annoying commutes and rush hour traffic jams. Instead, there is more free time that can be used for family and hobbies. At first glance, the home office seems to offer a better work-life balance; even without the need for home office tips.
However, this is not always the case. Many employees have difficulty separating their private and professional lives when both take place at home. You may find yourself quickly answering an email in the evening or checking your inbox on the weekend. Since there is no closing time in the traditional sense, many employees do not find a clear end to their working day and unknowingly end up working longer hours than they would in a shared office. Taking this into consideration, we must ask, "Is work from home really the better alternative? Are we doing it right?"
At Sparrks have taken a detailed look at the advantages and disadvantages of the home office and have come up with tips to help improve your work-life balance and increase productivity at the same time.
Advantages of Home Office
Working from home comes with a variety of benefits. We have compiled these for you below, focusing on the benefits for employees .
No need to commute
Employees benefit from working in a home office since they no longer have to travel to work and experience stressful situations like traffic jams, searching for a parking space, train delays and so on. Without these challenges, the day starts off stress-free in your home office.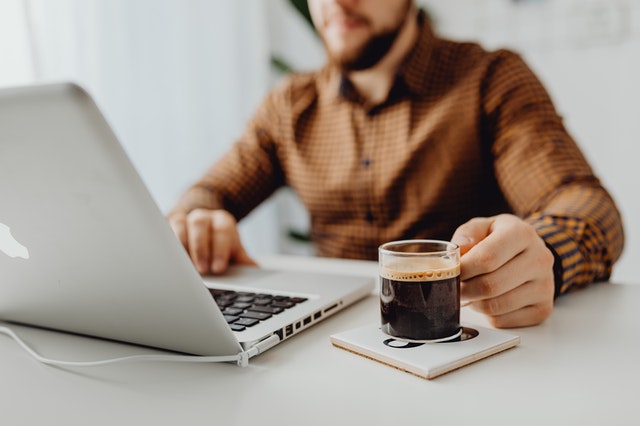 More free time
The fact that commuting is no longer necessary also means that employees have more free time. For example, they can sleep longer if they don't have to travel to work in the morning. There is also more free time in the afternoon or evening for hobbies and personal interests, since they don't have to take the bus, catch a train or drive to get home.
Decreased expenses
Employees also save on costs when commutes are eliminated. In view of rising gasoline prices, this is a particularly attractive proposition for car drivers. However, users of public transportation also save money on monthly bus and train passes, which are rarely covered by employers.
Peaceful and comfortable working environment
In many cases, home offices offer more peace and quiet for actual work. This is especially true for employees who otherwise work in an open-plan office, where there's often a tremendous level of noise and distractions.
Organizing working day in line with personal biorhythms
Working in a home office enables employees to organize their working day more in line with their biorhythms. If, for example, employees feel rather unfocused in the morning, but particularly productive and fit in the late evening, then the workday can be adjusted accordingly. This is not only healthier, but also more effective.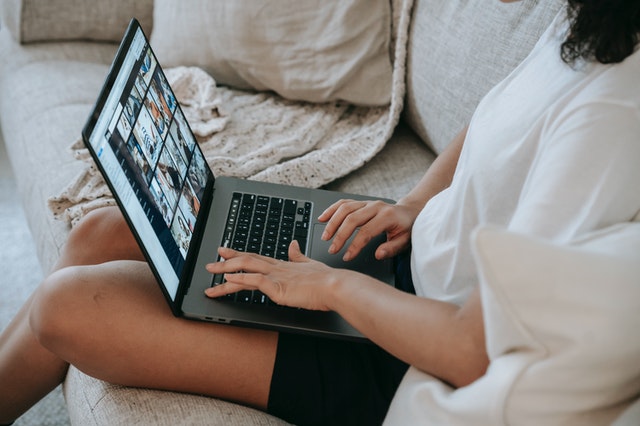 Greater freedom of choice
Working from home offers greater freedom of choice. In the home office, for example, there is no dress code. Instead, employees are free to decide what they wear without being judged or criticized by colleagues. Everyone is also free to decide where they can work best and where concentration is highest. This can be the desk, the couch or even a place outside in the fresh air. As long as productivity does not drop, employees find themselves at liberty to control their work environment.
Disadvantages of Home Office
Of course, working from home comes with its own caveats. We have compiled some of these for you below:
Easier to follow if you are not disciplined
Working in a home office requires a high degree of discipline, time management and independence on the part of the employee. Not everyone is inherently structured or organised in this way. Those who cannot discipline themselves sufficiently are less productive in the home office than in a shared office.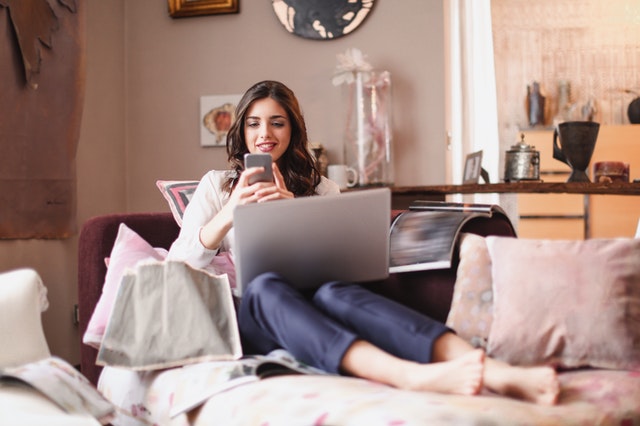 More exposed to distractions
Some employees actually face more distraction factors when working from home compared to working in a shared office. This is especially true for those who have children at home. Additionally, many find themselves distracted from work by pending household tasks such as hanging up laundry, unloading the dishwasher, etc.
Lack of spatial motivation and inspiration
Those who don't have a separate office room at home tend to do their work on the couch, at the kitchen table or in bed. This can be comfortable, but can impinge upon your personal life once the work day is done.Those who work in bed, for example, may have difficulty falling asleep there in the evening. After all, you've conditioned your body to be alert and focused in bed after spending an entire work day there. Relaxing on the couch can also become more difficult if now that you associate your place of relaxation with work. Moral of the story? Many employees ultimately find the home to be less relaxing private time if they spend the day working from home.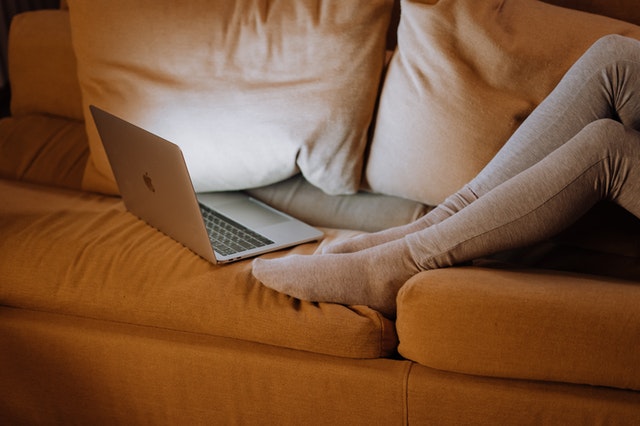 Digital overload
Quite a few employees are confronted with a "digital overload". From emails and chat rooms to video chat tools like Zoom and Skype, we find ourselves reachable at all times. However, those who are available after working hours and on weekends and who respond to emails, messages and calls feel increasingly stressed.
Super effective home office tips
The disadvantages of home office are clear: It doesn't promise great freedom. On the contrary, working from home can be downright perceived as a burden when boundaries become blurred. Ultimately, as with so many things, it all depends on each individual.
Nevertheless, we at Sparrks have come up with a few basic tips that can sustain productivity and create a better work-life balance at home.
Fixed working hours
Even though you are much more flexible when it comes to your working hours at home, the following is still important: Set blocks of time in which you dedicate yourself exclusively to your work.
In these time slots, you should avoid household tasks such as quickly hanging up the laundry or watering your plants. These seemingly quick tasks interrupt your work flow leaving your focus fractured.
It is helpful if you communicate your working hours to your colleagues and superiors in advance. This way, they know when you are available and when you are not. It also binds you to your working hours and helps you to really stick to them.
Once working hours are over, you can relish that "done for the day" feeling and detach from your work tasks guilt-free.
Schedule breaks
Scheduling working hours is important, but so is setting up fixed breaks for yourself. You should use these moments to actually "switch off" for a short time and to get away from work.
For example, avoid eating your lunch quickly at your desk and checking your email on the side. While this may be tempting when the fridge is right next door, it will strain your ability to concentrate. Instead, take a short walk in the fresh air and make sure you eat your lunch somewhere other than your desk.
Spatial separation
If you have the opportunity, you should physically separate your workplace at home from your living and sleeping areas. By having or setting up a separate study, you will be able to better separate your professional and private lives mentally. It is best to leave the door to the study closed after work if possible.
But even if you don't have a separate office room, you should avoid scattering your work tools (laptops, staplers, etc)throughout your household. Instead, designate one place in your home as your permanent workplace. In this place you should also stow your work documents in filing boxes or drawers after work. This way, they "disappear" from your field of vision and thus often from your thoughts as well.
Create order
Make sure your workspace is tidy, with space for only those items you really need for work. This way you can concentrate on the essentials and are less distracted. Tidying up your desk at the end of the day can also help you mentally prepare to "switch off" for the evening.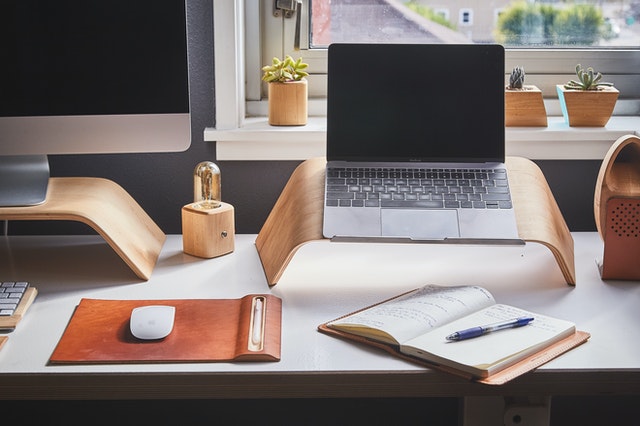 Movement
Those who work in a home office lose out on some exercise. This is because the commute to work is eliminated and the trips to get coffee and lunch are unnecessary if the kitchen is right next door. You should therefore proactively create time for physical activity.
Schedule time in your breaks and after work for a walk or sport activities. This is not only good for your own health and fitness, but also helps you "clear your head" after work.
Internalize these home office tips with Sparrk's business coaching
Anyone who has difficulty working from a home office should consider taking advantage of business coaching. After all, many of the challenges that working at home with digital media poses for employees can be solved more quickly and effectively with a professional coach. At Sparrks, we offer a wide range of coaching topics for you to choose from. Learn how to "Communicate effectively online", "Lead effectively remotely" or "Ignite Productivity". Feel free to visit our Coaching Topics, to learn more.