Master the art of debating
Confidently represent your point of view and convince your counterpart with ease
Everybody has to argue on a daily basis. Often it is more about "how" we convey a message than "what" we convey. Give your arguments the emphasis they deserve and convince your counterpart at eye level.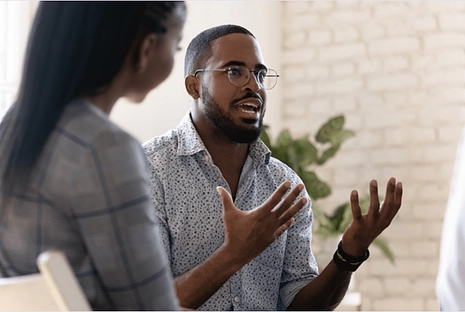 Communication is most effective when straightforward. Learn how to be clear and concise in your argumentation.
Being taken seriously by your counterpart is not always easy. Acquire proven skills that will put you at eye level at all times.
Structure your argumentation
Presenting something in a structured way is a skill that can be acquired. Take to conveying your message coherently for your listeners to easily follow your argumentation.
Highlight your message's relevance
Communicating your message clearly is one thing, emphasizing its relevance to your recipient is another. Explore ways of bringing out the importance of what you have to say.
There is a need for learning more leadership skills? Here is an overview of our other coaching topics in the area of leadership: