Manufacturing is a central part of industrial production. Manufacturers must improve productivity in manufacturing to thrive in the market and reduce costs.
There are numerous ways to improve the manufacturing process, but many companies fail to use them effectively. In this article, we will explain options on how companies can increase productivity in manufacturing.
To improve productivity in manufacturing, companies must implement a comprehensive and all-inclusive strategy. Successful strategies often include training or coaching solutions for employees and managers.
Employee development
Training employees is essential, as they must have the skills to use new technologies effectively. Good training can also help increase productivity by enabling employees to work more efficiently. Training efforts should, among others, focus on leadership development.
Indeed, leadership development solutions can boost company success using the assets at hand. One-on-one business coaching, in particular, is highly effective in enhancing leadership productivity and, in turn, team performance. Through the targeted use of business coaching, otherwise unattainable insights come to light. Such insights help in identifying and implementing new technologies relevant to the market. Business coaching sessions also reduce internal resistance to such change.
Latest technologies
Companies must choose the right technologies relevant to their specific needs and processes. Below we have listed four innovative technologies that can enable companies to increase productivity in manufacturing.
Automation
Automation is a valuable tool to help companies increase productivity and efficiency.
Automation can help increase productivity and efficiency by reducing labor and improving product accuracy and quality. It allows companies to produce more products in less time, reducing costs.
Adapting automation facilitates progress in workplace safety by minimizing risks and simplifying workflows.
Automation can also help companies increase their market share by providing faster delivery times and a better customer experience.
Data Analysis
Data analytics is a very effective way to improve productivity in manufacturing. It is one of the key trends in the modern manufacturing world. By analyzing large amounts of data, managers can optimize manufacturing processes. Also, companies can set optimal production parameters that directly lead to increased efficiency.
With the right data analytics, companies can learn more about their products and processes to make better decisions and operate more efficiently. With the right data analytics, managers can further reduce production costs.
Machine learning
Machine learning is an innovative technology used in many fields to automate processes and increase productivity. With the help of machine learning, companies can optimize processes by collecting and analyzing data.
Thus, along with data analytics, the quality of products is improved by identifying and solving problems at an early stage.
Mobile technologies
Mobile technologies in manufacturing can simplify, automate and optimize production. Most notably, these include mobile robots capable of performing tasks such as gripping, lifting, moving, and transporting materials.
Other mobile technologies used in manufacturing include wearable devices such as smartphones and tablets. Managers can control such wearables via mobile applications and wireless sensors. The data collected through mobile technologies ultimately serves managers to monitor and control processes. Meanwhile, workers use this technology to communicate with machinery and support production efforts.
Recap
The four technologies mentioned above can significantly help optimize processes and improve product quality. They can also help reduce costs and increase the company's competitiveness.
Therefore, companies must use these technologies to increase productivity in manufacturing. Companies should also select the right partners to implement the technology into their manufacturing processes.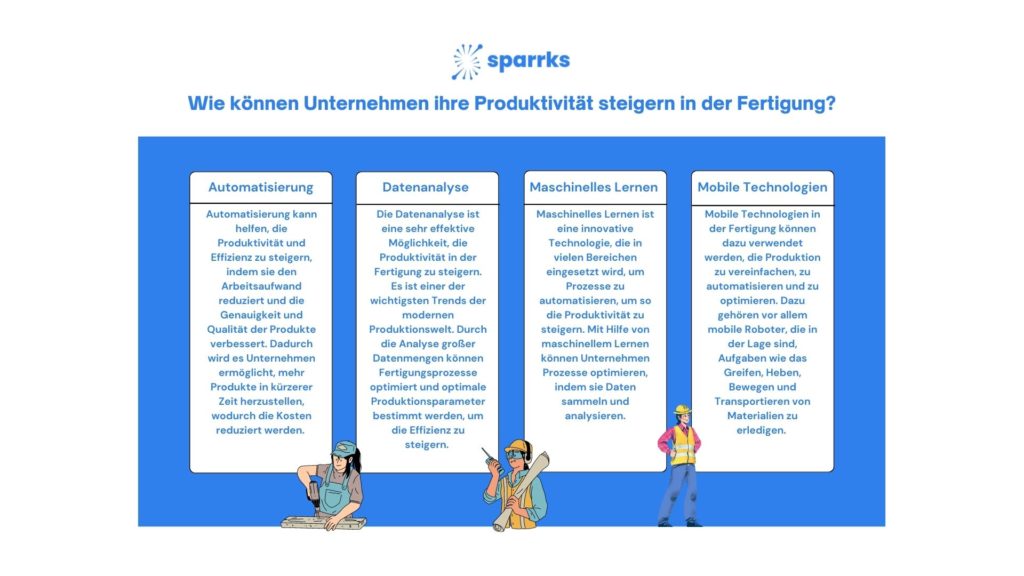 Culture of continuous improvement
In modern manufacturing, a culture of continuous improvement is essential to increase productivity and efficiency. This approach aims to evaluate, analyze and optimize existing processes to create value for customers and the business. Companies can improve their competitive advantage by constantly finding new ways to optimize the manufacturing process. Such constant optimization allows for producing faster, more cost-effective, and more efficient products.
To establish a culture of continuous improvement, companies must first create a clear vision for the future and foster a culture of growth and innovation. Such a vision requires involving employees at all levels in generating new ideas and processes. This approach also encourages all employees to provide feedback to improve processes and drive innovation. Implementing innovation management for employees is therefore highly recommended.
Furthermore, companies need to implement a structured and systematic method for continuous improvement. Such a method includes identifying weaknesses in existing processes and developing solutions to address them. It requires understanding the processes and constant monitoring so that updates hold on effectively.
In conclusion, organizations must create a culture where all stakeholders are accountable for achieving goals. It requires a culture of engagement and collaboration where all employees are interested in improving productivity and efficiency. Such behavior enables companies to become more competitive and create added value for customers and the company.
Increasing productivity in manufacturing - Conclusion
There are many ways to improve productivity in manufacturing. However, companies need to develop a strategy that encompasses all organizational levels. Managers must select the right technologies and train employees to use such technologies effectively. Also, to increase productivity in manufacturing, companies must create a culture of perpetual improvement. When companies apply these strategies, they can significantly increase productivity in manufacturing and improve their competitiveness.