Having difficult conversations
Feedback is a gift for the receiver. Develop your team sustainably through constructive feedback.
Feedback kann enorm wertvoll für den Empfänger sein, wenn es richtig eingesetzt wird. Kaum ein anderes Leadership Tool fördert die Weiterentwicklung Deines Teams umfassender. Ungeahnte Verbesserungspotentiale werden konstruktiv sichtbar gemacht, gesteigerte Motivation entsteht.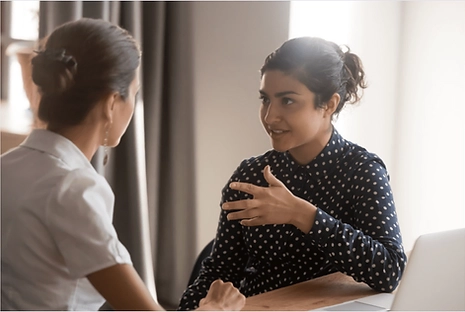 Present facts and examples
Make your feedback impactful and comprehensible by providing facts and concrete examples.
Don't hide behind "we" or "you", but stand by your words and evaluations. Find out how I-messages make your feedback authentic.
Establish a feedback culture
Personal growth is subject to constant development. To achieve it, feedback is key. Create an environment where feedback is valued and encouraged.
The order in which individual messages are conveyed plays a crucial role in how your comments are perceived. Learn how to properly structure your feedback.
There is a need for learning more leadership skills? Here is an overview of our other coaching topics in the area of leadership: